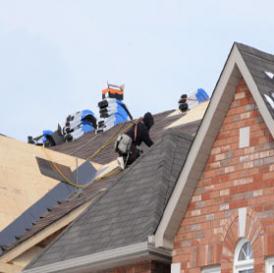 We are here to answer your questions and to make sure you get the help you need. If you've got roofing problems, like leaks or loose tiles, we are happy to work with you to come up with the best long term solutions for your needs. We believe in making our customers happy in the long run, and we work hard to earn our reputation. If you have a friend or family member who needs San Jose roof work done, we're always happy to receive your business. Our San Jose roofing team survives off of referrals, because after we repair or replace a roof, we guarantee that you won't have to call us again for roof repairs for a good, long time.
If you have the opportunity to plan your roof replacement in advance, we strongly suggest scheduling service for the spring or summer months. Weather conditions in the late fall and winter can occasionally jeopardize our completion times, and it is during those months that our storm repair and leak repair services keep our staff running long hours.
Nevertheless, we understand that a roof can go bad at any time, especially during the winter, and sometimes it just makes more sense to replace a roof than to keep patching up your old one. When that happens, give us a call. We'll be happy to work around your schedule to make sure you get the help you need, no matter what.